The most recent episode of The American Rancher featured VitaFerm® customer, J&S Cattle Co of Bastrop, LA. In it they discuss the challenges of raising cattle in a region with extreme heat, humidity and an abundance of flies and how VitaFerm HEAT helps.
Click the icons below to share with your customers: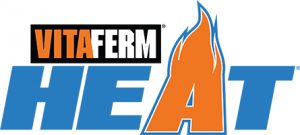 VitaFerm® HEAT® is a line of vitamin and mineral supplements for beef cattle used to reduce heat stress during temperatures of 70 degrees and above, or anytime cattle are grazing fescue. Contains the Amaferm® advantage and Capsaicin, both research-proven to lower body temperature, which can improve conception rates by maintaining pregnancy. Includes garlic, a natural insect repellent.