Why Your Customers Need It:
• The Amaferm Advantage: Amaferm is a precision-based prebiotic that provides more intake, feed digestbility and nutrient absorption resulting in amplified breeding performance of the cow.
• High Vitamin E: Contains high levels of Vitamin E shown to assist in reproductive tract repair, clinical mastitis, improved milk quality and egg cell wall integrity.
• 57 Times More Stability: Contains OPTiMIN® , proteinated trace minerals for 20% greater availability to the cow than inorganic minerals and 57 times more stability than other organics. OPTiMIN uses more points of attachment for greater stability.
Key Research:
• Reproductive Success Report: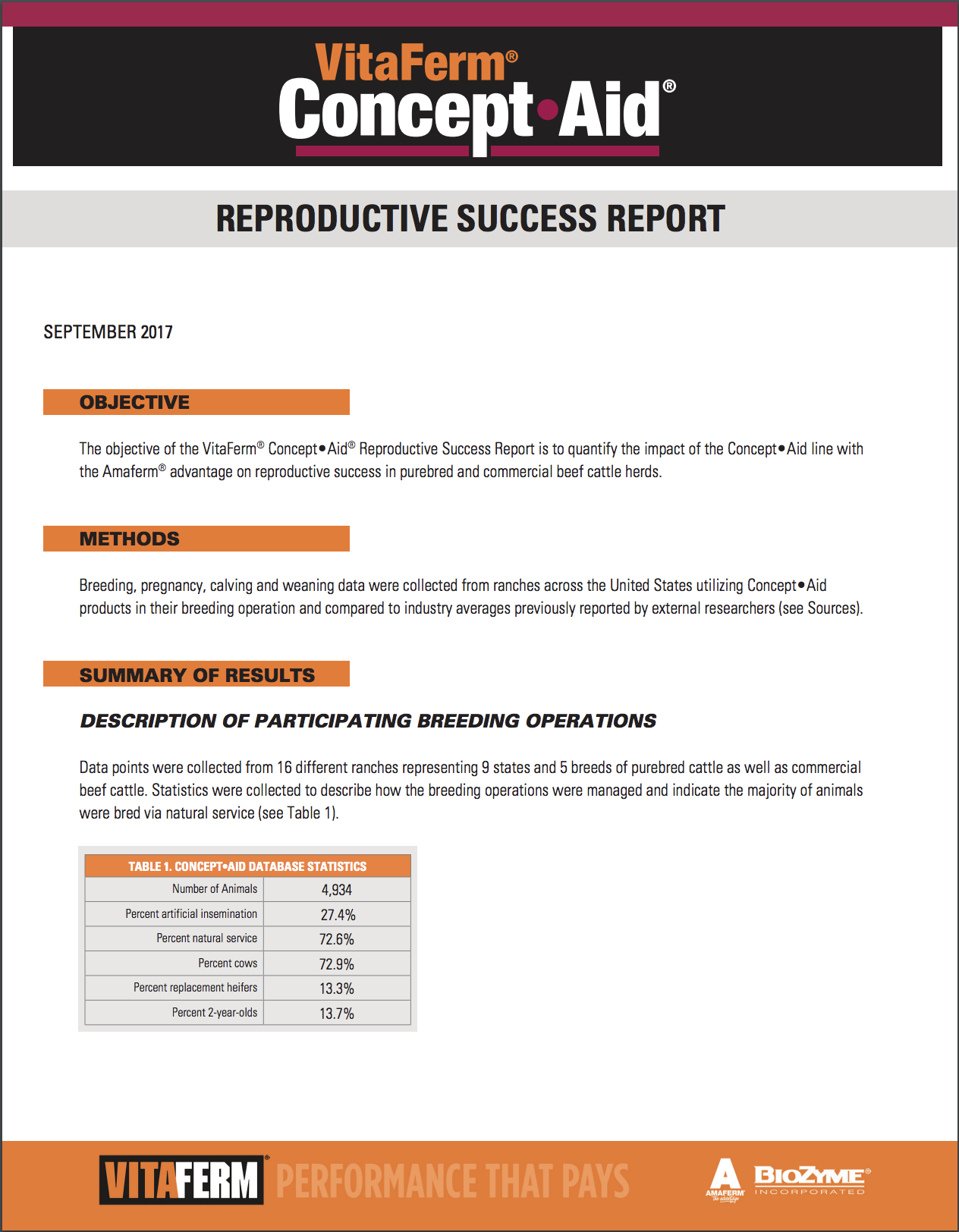 The Reproductive Success Report is a study of reproductive success in the areas of conception rate, calving rate and weaning weight of actual herds that fed VitaFerm Concept•Aid. If you have customers that feed Concept•Aid please encourage them to submit their cowherd data so that we can continue to refine this data year after year.
To learn more, visit www.vitaferm.com/reproductive-success-report/
Selling Tools:
With so many different formulations of Concept•Aid, many customers are not sure which one to choose. To help we've created a quiz that asks a variety of questions about their environment and feeding situation. Based on their inputs, it recommends an appropriate Concept•Aid formula for them.
We've added a gestation calculator and printable gestation table to our website to better serve our customers. In addition to calculating date of birth, it also calculates dates that we recommend feeding Concept•Aid.
• VitaFerm Conception Calculator:
Use this tool to show your customers the additional advantage per calf they can expect from feeding VitaFerm.
Share With Your Customers:
There are some great educational pieces about VitaFerm Concept•Aid available on the blog at www.vitaferm.com/blog. Some of the newer ones to check out are:
• Don't Skimp on Winter Supplementation
• Nutrition is Vital to Successfully Breeding Back
• How to Give Multitasking Mamas an Added Nutritional Boost