We have lots of changes happening this month. Be sure to check them out below.
PRODUCT UPDATES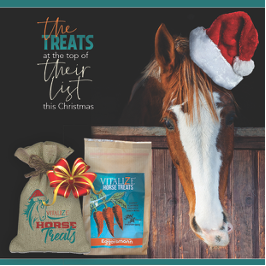 In November and December, the Vitalize® Horse Treats will be packaged in Christmas packaging for the holiday selling season.

On September 1, the Vitalize® Equine Recovery Gel and Vitalize® Dog Recovery Gel were renamed to Vitalize® Equine Gel and Vitalize® Dog Gel. This change was made In order to be in compliance with new state AAFCO and NASC regulations, and in line with BioZyme®'s commitment to producing quality products through a quality process that are represented and registered accurately.
CUSTOMER PICK-UPS
EFFECTIVE IMMEDIATELY: Customers picking up with a livestock trailer must provide a wash out ticket before we will load product. We will not be able to load the trailer if the wash out ticket is not provided.
LOGISTICS UPDATES
At BioZyme, we are continuing to experience logistics challenges for our ingredients and materials, such as our packaging, which are resulting in both shortages and increased costs. We are working tirelessly to overcome these challenges to keep pricing under control and continue to deliver quality products quickly.
January 2022 Changes
FULFILLMENT UPDATES
Starting January 1, 2022, BioZyme® will require a minimum order of 2.5 tons. This change is being implemented due to the ongoing challenges we are experiencing with reliability and availability of LTL shipping. Distribution partners are available for smaller orders with coverage in over 30 states. If you need help working through these partners, please contact your Area Sales Manager or the Outreach Support Center.