Social media is a great tool to reach a lot of people with minimal investment. Today, nearly 70% of the entire U.S. population has at least one account on a social media platform, and 42% of farmers use Facebook or Twitter daily.
Caitlin Tye, Content and Social Media Manager for BioZyme®, says there are two primary purposes to reach customers with social media, as a marketing tool and as a customer care tool.
"Everything you put on social media is strategic communication. It is not unplanned conversation," Tye said.
When using social media as a marketing tool, you should see tangible results with an increase in sales. Be sure to know your audience, and what motivates them. And understand what content is important to your audience: talk about the products and their uses; highlight producers who have had positive results; keep customers updated on news from your dealership – new products, events or upcoming promotions. And, remember, sometimes social media as a marketing tool will cross over to customer care.
Tye offers four best practices when using social media as a marketing tool.
1 – Less is more. Capture the audience's attention with short, effective post copy. People don't have time to read a lot of text, so keep the copy precise and catchy.
2 – Imagery. Never post content without a visually appealing image to accompany it. Nothing should be posted without an image. Ever.
3 – Engagement.  Be clear how you want your audience to react to your message. Will they comment on it? Will they "like" the post? Will your customers "share" the post, and engage with others who are potential customers?
4 – User Generated Content (UGC). "Never underestimate the power of a brand-loyal fan," Tye said. UGC is an unsolicited post submitted by a customer who is passionate about the product, who has seen a positive result. UGC is accompanied by a strong image, a powerful testimonial, and is more effective than you telling your customers how wonderful your products are.
If you have questions about social media or developing a social media strategy, contact Caitlin Tye at 309-582-6454 or ctye@biozymeinc.com
Here are a few examples of strong posts that will work as marketing tools. If you need help with Facebook posts about our products, contact Kristi Stevens, Marketing Project Manager, at 816-596-8795.
Product Highlights:
Show a picture of the product in use or product that you have in stock and ready for purchase.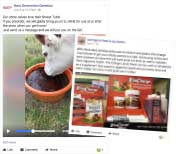 Dealership Information:
Share services offered, exciting news or upcoming specials with your customers.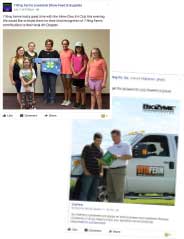 Customer Testimonials:
Testimonials are one of the most powerful tools you can use to sell products. Coupling a customer's words with their photo (preferably using the product) makes great content for your social channels.