NEW PRODUCTS
On February 1, BioZyme will launch a new brand, Backyard Boost™. Backyard Boost is a line of natural products that are purposefully crafted to support the health, wellbeing and productivity of poultry. Backyard Boost uses only the highest quality components and proprietary ingredients proven to support a flourishing flock. Two products will be included in the initial launch:


Backyard Boost Daily Essentials is a pelleted, natural protein supplement fully fortified with a prebiotic, vitamins, minerals and organic trace minerals to maximize growth and egg production and support overall flock health. Available in 2.5# and 10#.


Backyard Boost Defense is a liquid supplement that promotes feed and water intake during times of stress and recovery to help support digestive health and a healthy inflammatory response. Available in 16 oz.


Vita Charge® HydraBoost™ RTU is now available as a ready to use formula in a 2.5-gallon jug.
PRODUCT UPDATES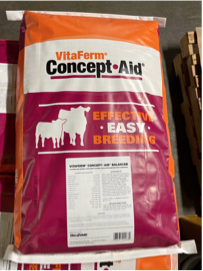 In December, the sewn in tag was changed to a printed label for all non-pelleted products.

On January 1, 2021, we changed from Altosid (1-fly claim) to Clarify (4-fly claim) in all of our IGR products. The registration process of the new ingredient requires product name changes to several products as well as new product numbers:


VitaFerm® Concept•Aid® 5/S IGR will now be 85317 VitaFerm® Concept•Aid® 5/S with Clarifly®

VitaFerm® HEAT® IGR will now be 10991 VitaFerm® HEAT® with Clarifly®

VitaFerm® Concept•Aid® 5/S CTC 3G IGR will now be 85001 VitaFerm® Concept•Aid® 5/S CTC 3G with Clarifly®

We have received approval and can be begin selling these products in the following states: Alabama, Arkansas, Colorado, Florida, Georgia, Illinois, Iowa, Kentucky, Louisiana, Michigan, Missouri, Montana, Nebraska, New Mexico, North Carolina, North Dakota, Ohio, Oklahoma, South Carolina, Tennessee, West Virginia and Wisconsin. We will update the Product Center in the Online Dealer Center as we receive additional approvals.
ORDERING UPDATES
When submitting Customer Pickup orders, instead of defaulting to "I want it as soon as possible," the order system now requires you to select a date that the order will be picked up. Any orders that are not picked up within 5 business days of the requested pick up date will incur additional storage fees of $10 per pallet, per day.
SHIPPING UPDATES
FREIGHT CLAIM REMINDER: Please remember that you MUST notate what was damaged and sign the DRIVER'S copy of the delivery receipt in order to submit a freight claim. The freight companies deny our claims when the delivery receipt is not signed, and we cannot provide a credit on denied claims.
DISCONTINUED PRODUCTS
On January 1, 2021, VitaFerm® Cattleman's Blend™ CTC 3G and VitaFerm® Cattleman's Blend™ CTC 3G IGR were discontinued due to declining sales.
NEW EMPLOYEES AND EMPLOYEE CHANGES
John Jeffrey has moved to our Business Development Team as the Feedlot-Stocker Business Development Manager. He has been an integral part of the Superior value-added programs over the past three years and will continue to focus primarily on the stocker cattle segment to allow for more growth of the Gain Smart® and Vita Charge® product lines.

Maverick Squire has joined BioZyme as the new Area Sales Manager for Oklahoma.

Dave Gallagher will once again resume covering all of Missouri as the Area Sales Manager.

Blaine Rodgers has transitioned from Business Development to Sales and Outreach and is now the Western USA ASM and Show Livestock Manager.

Chris Kyle now covers all of Louisiana and Arkansas as the Area Sales Manager.

Sam Silvers now covers South Texas, West Texas and New Mexico as the Area Sales Manager.

Sam Norton will be supporting inventory's efforts to continue our high standard of implementing and monitoring procedures to ensure we retain proper inventory.

Caity Norton will be our Senior Manager of Environmental Health, Sanitation & Safety and continue to oversee the Housekeeping department, while taking on efforts to continue BioZyme's commitment to safety and health.

Evelyn Wyble is transitioning into the Housekeeping Manager position.


CHANGES COMING IN MARCH 2021
NEW PRODUCTS
In March, BioZyme® will launch a DuraFerm® Goat Concept•Aid® Protein Tub: A breeding mineral with 16% natural protein in a cooked tub for goats specifically designed to target cycling, embryo production and conception when fed 30 days prior to kidding through breeding. Especially beneficial in A.I. and E.T. breeding programs. Stay tuned for more details coming soon!
PRODUCT CHANGES
Vitalize® Equine Digest More® Plus will begin shipping in a slightly different bag in late February or early March once current bag inventory is depleted. This change is due to our current bag being discontinued by the supplier.