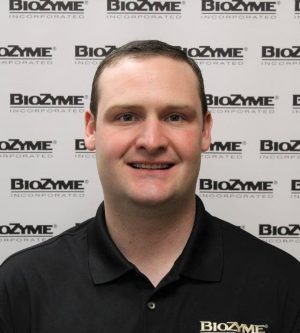 Maverick Squires, Dover, Oklahoma, is the new Area Sales Manager for BioZyme® Inc. As an ASM, Squires will work to develop new dealerships and build upon current dealer and customer relationships while promoting BioZyme's numerous product lines in the state of Oklahoma. He replaces John Jeffrey, who has been promoted to Feedlot-Stocker Business Development Manager.
"I like the science behind the products. I started using them and saw how they work firsthand. The culture of the people who work at BioZyme really impressed me with their professionalism and talent. The company has good products and good people," he said.
Squires brings a diversified background and multifaceted experiences to his new role. A graduate of Oklahoma State University, with a bachelor's in Animal Science, he was a member of the livestock judging team. He also competed on the Butler Community College livestock judging team. He most recently worked for Animal Health International for five years, where he called on mixed-practice clinics and large-scale livestock producers. He has worked for a boar stud as well as gained other valuable experiences in the livestock industry.
"I am very excited to have Maverick join the BioZyme family! His background in the livestock industry should prove to be extremely beneficial to his own personal success as well as the success of the company. Maverick is a native Oklahoman who is a hard worker and will bring a wealth of knowledge to his customers," said Jake Warntjes, National Sales Manager.
Squires plans to use his skills and experiences to continue to grow the business while helping customers and potential customers realize the value of the what the BioZyme products will bring to their operations, both from an economic standpoint and for their animals.
"I am really excited to work with everyone and appreciate the opportunity to be here," he said.
He and his wife McKenzie have one son, Sterling, and will welcome a second child this spring. They raise show pigs and are anxious to become involved in his grandparents' cow-calf operation. Squires also enjoys hunting and fishing when time allows.
For a list of BioZyme Area Sales Managers, visit https://biozymeinc.com/our-staff.