Genetics are just part of the equation. Your sheep and goat customers have likely studied long and hard to make breeding decisions, but you will want to help them ensure those decisions stick with nutrition from DuraFerm®. DuraFerm is a line of vitamin and mineral supplements for small ruminants with the Amaferm® advantage to increase fertility and conception rates resulting in more live lambs and kids, and ultimately more profit potential. When used at least 30 days prior to parturition through breeding, the formula supports quick repair of the reproductive tract, faster breed back and increased milk production for lamb and kid vigor and growth potential.
Get 'em Bred, Keep 'em Bred
With summer temperatures flaring up, you'll want to be sure to promote DuraFerm Sheep Concept•Aid® HEAT®, which is especially beneficial to combat the challenges of getting ewes bred in the summer. The combination of Amaferm, the HEAT package and garlic, considered a natural insect deterrent should make this product an easy sell, especially as mosquitoes are carriers of the Cache Valley Virus. Many producers experienced detrimental effects of CVV in their 2022 lamb crop due to the excessive mosquito exposure during breeding and gestation.
Aborted fetuses, stillborn or abnormally formed lambs are all signs of CVV. The loss of a healthy lamb or kid is a financial loss for producers. Preventing mosquitoes through breeding and the first 60 days of gestation is the most effective way to prevent CVV. The garlic in the HEAT mineral is one way to prevent mosquito bites. Also encourage your producers to spray for mosquitoes and keep standing water away from their females as much as possible.
DURAFERM FOR GOATS
In addition to the three products for sheep, DuraFerm comes specially formulated in two products for goats as well. Both the DuraFerm Goat Concept•Aid and DuraFerm Goat Concept•Aid Protein Tub offer the same breeding support and Amaferm advantage as all Concept•Aid products. The Protein Tub adds 20% natural protein, especially beneficial for A.I. and E.T. programs.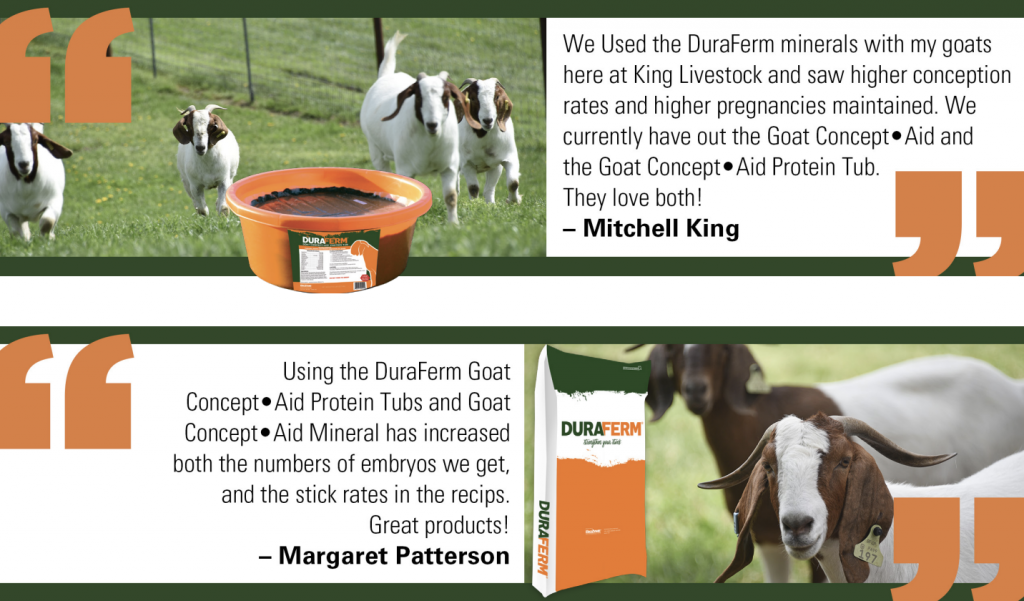 ALBERS NAMED MARKETING BRAND MANAGER – SMALL LIVESTOCK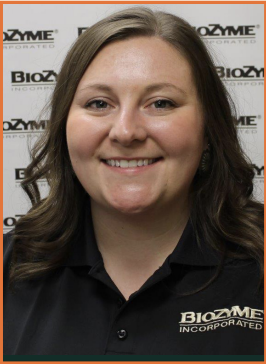 Samantha "Sam" Albers is the new Marketing Brand Manager – Small Livestock. In her role, she will focus her efforts on specifically marketing the brands of DuraFerm and Backyard Boost to sheep, goat and poultry producers nationwide.
Albers brings a strategic and creative mindset to BioZyme, as well as a well-rounded livestock background. She most recently worked at Hereford Publications Inc., for nearly four years where she collaborated with breeders to plan their marketing campaigns and sale books. She also coordinated the HPI social media accounts. She is a graduate of Kansas State University with a bachelor's degree in Agricultural Communications and Journalism with a minor in Animal Science. She also attended Allen County Community College and was on the livestock judging team there. She was active in 4-H and FFA, and she showed sheep, goats, cattle, pigs, dogs and rabbits. Albers, a Kansas native, works from her home office in Lawson, Missouri. She enjoys photography as a hobby. She also likes cooking and creating recipes, just another creative outlet for her.